Are you an Importer of Construction Products (e.g Bolts/Steel sections)?
Do you know your obligations?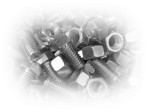 This applies to those companies that import construction products such as steel sections or structural bolts from manufacturers outside the European Union. Since 1st July 2014 it also applies to companies that import fabricated steel complying with BS EN 1090-1.
The legislation and regulations say that an Importer shall ensure they do the following:
No.
Requirement
1.
Only place construction products on the market that comply with the Construction Product Regulations
2.
Assessment and the verification of constancy of performance shall have been carried out by the manufacturer
3.
The manufacturer has drawn up the technical documentation
4.
The manufacturer has drawn up the Declaration of Performance
5.
The product bears the CE Marking
6.
The product is accompanied by the required documentation in the appropriate language
7.
Not place on the market construction products that do not conform with the regulations
8.
Place the importer's name and address on the product, the packaging or the accompanying documentation
9.
The product is accompanied by the safety instructions
10.
Storage and transportation do not jeopardise the performance of the product
11.
Storage and transportation do not jeopardise the performance of the product
Take corrective action and/or withdraw non-conforming products
12.
Retain records for 10 years
13.
Upon a 'reasoned' request provide national authorities with all information necessary to demonstrate conformity with the Declaration of Performance
In addition – it is a requirement that:
'Importers shall, when deemed appropriate with regard to ensuring the accuracy, reliability and stability of the declared performance of a construction product, carry out sample testing of construction products placed or made available on the market, investigate, and if necessary, keep a register of complaints, of non-conforming products and of product recall, and shall keep distributors informed of any such monitoring.'
Unsure if you are meeting your obligations under the Law? Any questions?
Then please contact Pat Powell on enquiry@w-l-p.co.uk.

Find this blog useful? Share it with friends and colleagues using the buttons at the bottom right of this page.